Emolice is the UK and Ireland sole distributor for Servotronix servo motors, stepper motors, servo drives and motion controllers.

Located in Germany, Servotronix develops and manufactures standard and customised automation solutions with a focus on motion control.
Servotronix develops high-performance servo drive families and motion control solutions, tailored to a global customer base of leading machine builders and automation system suppliers.
Further information on Servotronix and their products can be found by downloading the brochure.
THE SERVOTRONIX PRODUCT RANGE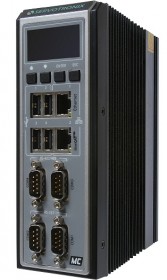 Motion Controller Range
Servotronix supply a range of motion controllers, from the smallest in its performance class all the way up to compact motion control software and hardware packages that can support between 1 and 64 axes of movement. Servotronix motion controllers are designed to seamlessly integrate with the Servotronix servo and stepper drive-motor systems, providing a complete motion solution in a cost-effective package.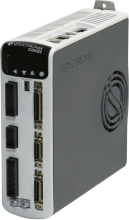 Servo Drive Range
The accurate and efficient servo drives feature a loop design that achieves an industry-leading frequency response of 3-5kHz. Their advanced autotuning reduces tracking error and settling time to almost zero, and their innovative anti-vibration algorithm eliminates mechanical resonance.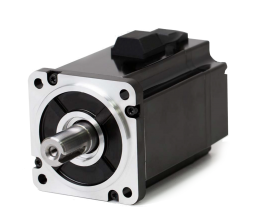 Servo Motors
With a wide range of torque ratings and motor options, the servo motors particularly suit highly dynamic applications with high requirements for accuracy and stability. These servo motors are also offered as a perfectly matched servo bundle in combination with a range of servo drives, providing value and making commissioning simple.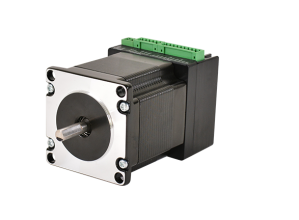 Stepper Motors
Servotronix offers a stepper motor with superior closed loop control and a cost-effective design. Efficient and economical, this is the perfect solution for a product that needs the performance of a servo at the price of a stepper. By means of an absolute single-turn encoder, Servotronix's stepper motor ensures optimal torque utilization at any speed.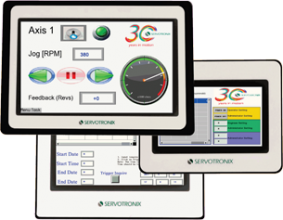 Machine Interfaces
The range of machine interfaces feature products with colour touch screens, designed to let machine operators control robots and moving parts of machinery. They collect data to allow the operator to control and monitor connected industrial machines or servo motion systems.