Emolice are the UK distributor for UNITRONICS. Unitronics designs, manufactures, and markets quality combined PLC + HMIs for the global market. Known for their easy to use, efficient, and affordable products have been automating processes, systems, and stand-alone applications since 1989.
Unitronics' field-proven PLCs automate hundreds of thousands of installations in diverse fields: petrochemical, automotive, food processing, plastic & textile, energy & environment, water & waste water management – anywhere automated processes are required.
For the widest range of information on Unitronics combined PLC & HMI systems, Download the catalogue here.
THE UNITRONICS PRODUCT RANGE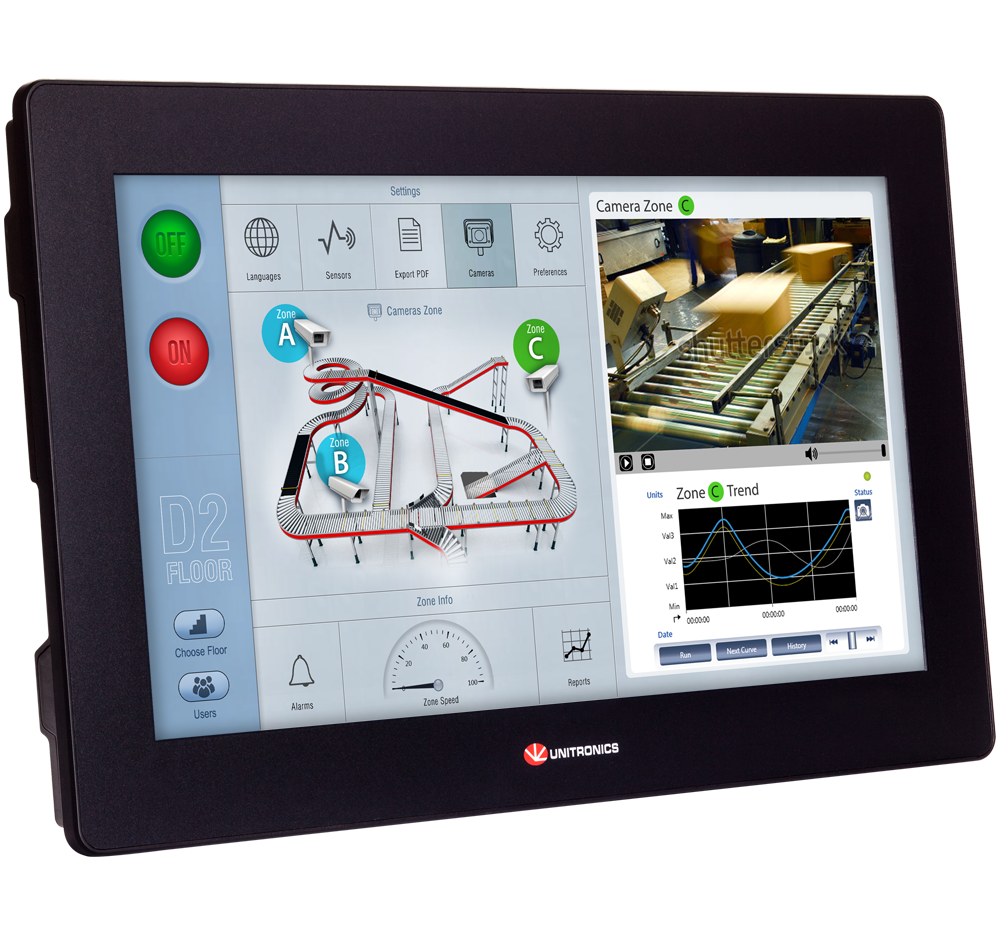 Unitronics PLC & HMI for High End Machines and Automation 
The high-end Unistream range offers two variants with either Modular or Built-in, I/O configurations, all have HMI touchscreens, with a wide range of communication options.
The UniStream 7″, 10.4″ and 15.6″ are modular controllers, configured by selecting the size of HMI panel which is then matched with a plug in CPU and snap on I/O and COM modules to build a compact controller to match your application requirements.
The Unistream 5″ and 5″ Pro are highly compact controllers, where the PLC, HMI, and I/Os are built into a single unit and in a range of built-in I/O configurations. The high-quality 5″ HMI is a touch panel and the hardware features a powerful CPU that supports up to 2048 I/O points,it also includes built-in Ethernet, USB host & device COM ports with CANbus, RS232 and RS485 available as add-on modules.
PLC & HMI for Advanced Machines and Automation
The Vision range is an award-winning series of programmable controllers (PLC + HMI) , that offers a model to meet any advanced control project need. Vision All-in-One controllers ( Vision130™, Vision350™, Vision430™) offer a broad range of built-in I/O configurations, whilst larger-screen Visions (Vision560™, Vision570™, Vision700™, Vision1040™, Vision1210™) support a variety of I/O modules that snap onto the back of the controller.

All Vision programmable controllers are expandable and I/O Expansion Modules can supply digital, relay, high-speed, thermocouple and load cell.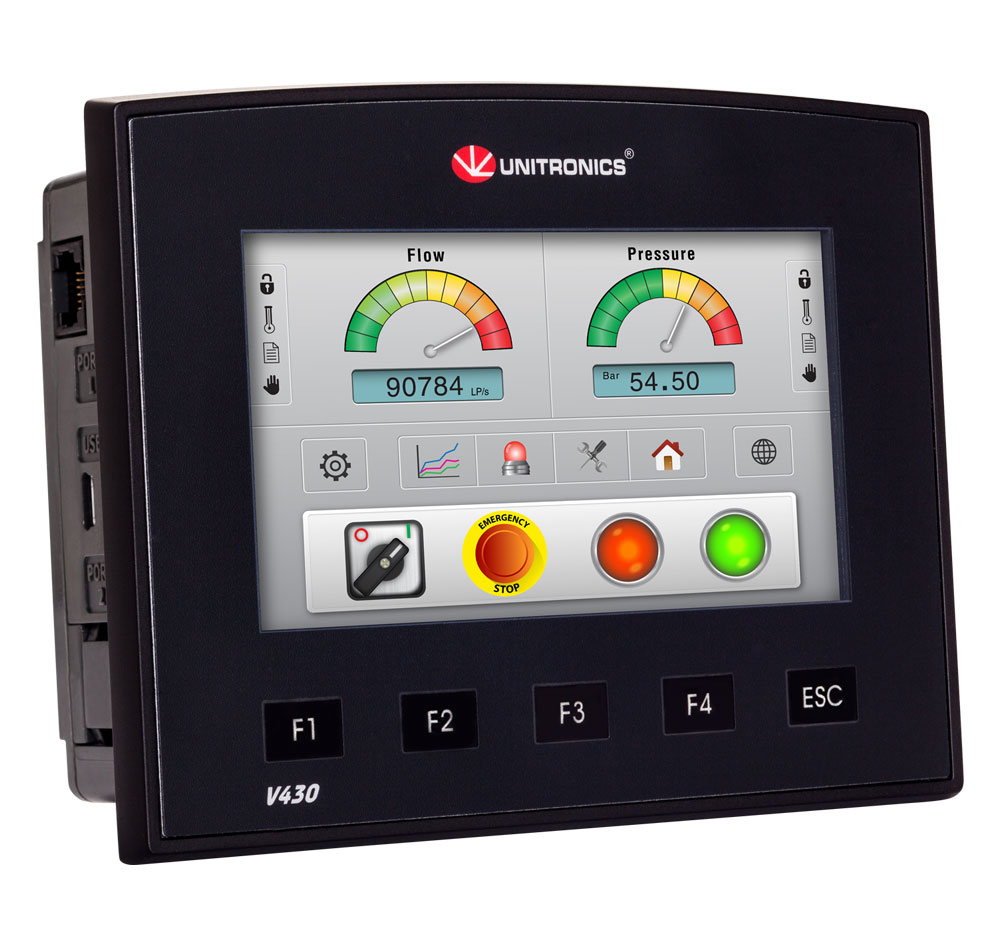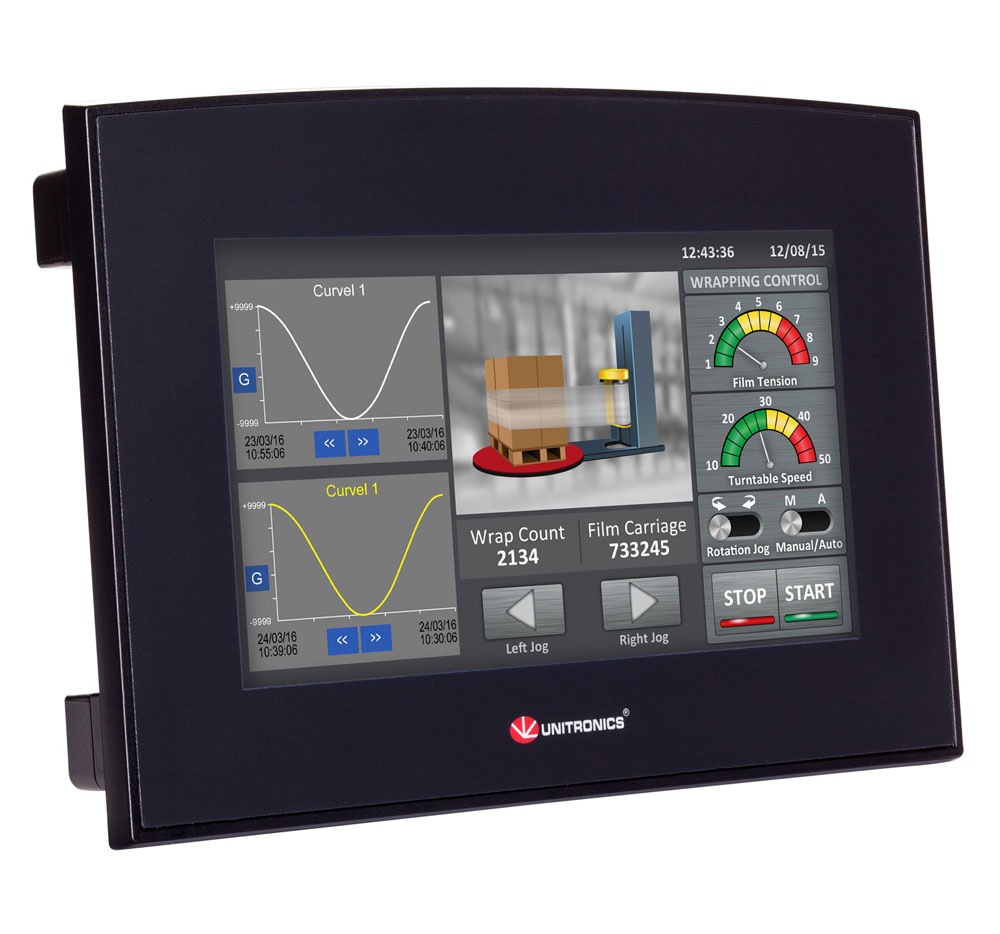 PLC & HMI for Small Machines
Samba™ programmable controllers are a perfect fit for any small machine or simple project that requires a true PLC controller and a high resolution HMI colour touchscreen without sacrificing PLC functionality. The 3 variants (Samba™ 3.5″, Samba™ 4.3″ and Samba™ 7″) offer a range of on-board I/O configurations and a flat fascia (compliant with IP66/IP65/NEMA4X) which makes it an excellent fit for food & pharmaceutical applications.
PLC & HMI for Simple Machines
Jazz ® & M91™ are full-function programmable controllers (PLCs) with onboard I/Os and a built-in text only HMI panel, specifically designed to control small machines and simple-to-medium automation tasks.
Both Jazz® & M91™ HMI panels offer 2 lines x 16 characters text displays with an embedded keypad and both are available in models offering a range of on-board I/O configurations including high-speed and temperature options.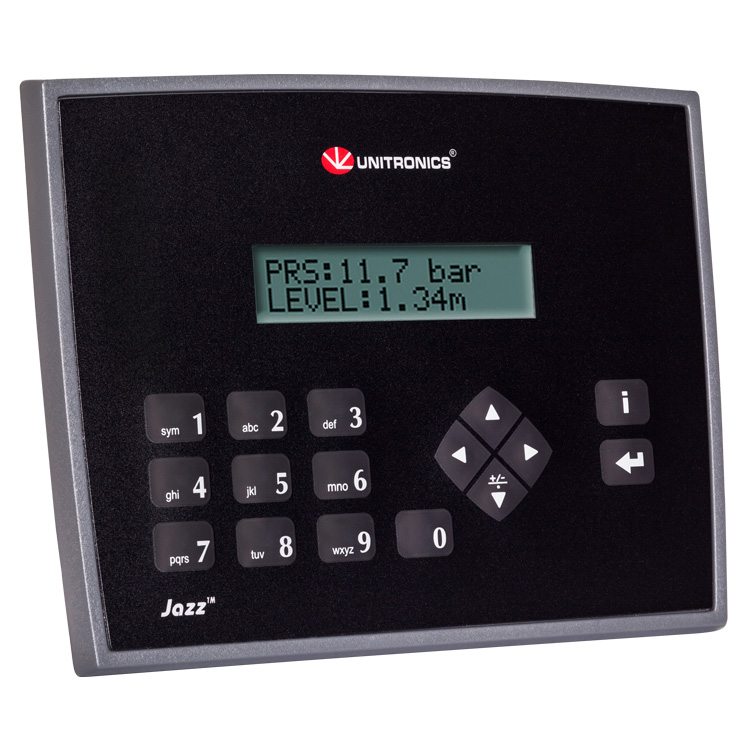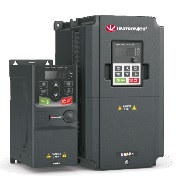 Variable Frequency Drives (VFDs)
Variable Frequency Drives (VFDs) Unitronics VFDs can be used as a stand-alone product, or as part of a complete All-in-One package along with the Unitronics PLC+HMI controllers:
UniStream®, Vision™ and Samba™ allowing use of the same programming software as the PLC control and HMI application and operation of the VFD directly from the controller's HMI panel.